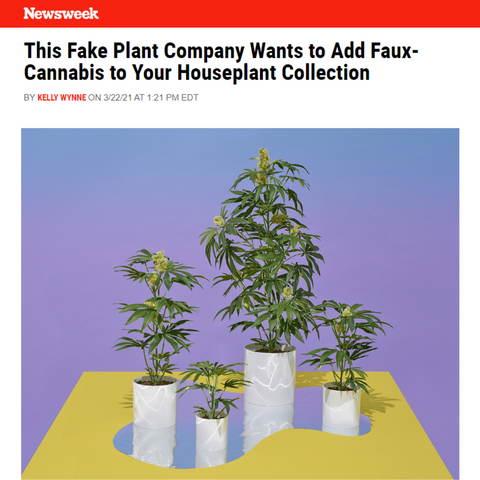 Newsweek Thinks Pot Plants are the Newest Houseplant Trend
Move over, monsteras. weed plants may be the newest, trending house decor.
Kelly Wynne at Newsweek interviewed our Co-Founder Karina Farris about how and why Pot Plant was started.
Karina said "I was growing my own plants then and everyone who would visit were impressed with the plants' natural beauty," she said. "I thought, if only more people could see the plant in its truest, most natural form, they would see weed in a different light."
Marijuana laws are rapidly changing around the country. Some states offer total recreational freedom, while others have decriminalized the plant. Pot consumption or possession remains fully illegal in six states—Alabama, Idaho, Indiana, Nebraska, South Dakota and Wyoming—as of January 9, according to weednews. While the American lifestyle is certainly adjusting to make pot more mainstream, there are still taboos around the consumption of the plant.
So, Pot Plant's design is also aimed to start conversations with those who aren't weed enthusiasts about the beauty of the plant, both when viewed and consumed.
Read the full article about how it started here.