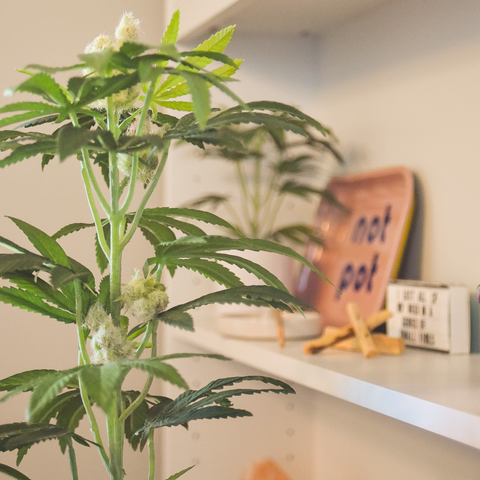 The Spark with the Zooie Girls
We started Pot Plant to champion individuality, to create curiosity and spark meaningful conversations. Pot Plant wants every person to remain true to themselves and not conceal any part of their lives.
Our friends the
Zooie Girls
(IG: @zooiegirls) share in this mentality. They are unapologetically themselves and share in our mission to change the way the world looks at weed through their 420-friendly content.
Say high to Kate & Shyla aka The Zooie Girls
A love for creating, canna & Colorado brought Kate and Shyla together. Through all of the craziness of 2020, they found a silver lining and saw this time as an opportunity to rediscover their creative sides. They launched Zooie, a 420-friendly lifestyle brand, aiming educate & empower the modern adult.
PP: What brought you to launch the Zooie blog?




Shyla: I've always toyed with the idea of starting a lifestyle brand, but was too busy to really think about it and knew the best way to succeed is to have a niche. It just so happens that when lockdown first started, I had a lot of girlfriends reaching out to me for canna advice since they knew I previously worked in the industry. This was the sign I needed to just go for it and combine my creative side with my canna loving side to create a blog with the intentions of helping more young women develop a healthier relationship with the plant and show that you can be a productive, creative, badass stoner.


Kate: Since I've been spending so much time at home, I have really been diving into being creative again! That's kind of where the motivation to launch Zooie came from. Shy and I were laid off, feeling anxious, and I needed a creative outlet to make me feel a sense of productivity during the long job search. Definitely helped me cope A LOT during the pandemic to dive into creating Zooie :)
PP: How do you spark creativity and inspiration during these times?




Shyla: I was definitely in a funk when lockdown first started, but after a photoshoot with Kate at the Paint Mines in Colorado, I just felt that creative spark again. I think it's really important to have people around who you connect with. Being able to bounce ideas off of someone else is so helpful and so much more fun together. A good sativa strain always helps too!




Kate: During times like these it's really easy to get exhausted or wiped out even doing the things you LOVE doing. It can be hard to maintain inspiration when you're stuck in the same 800 sq ft every day, but I've gained a lot of creative energy from Shyla honestly. She's always so energetic, imaginative and hardworking and I couldn't ask for a better partner in this journey <3




PP: What's your favorite artist, song or playlist right now that inspires your work/creativity at home?




Shyla:

Miley all day everyday. Her music is just so fun and she proves that you can be multi-dimensional. The world needs all parts of you so don't be afraid to be authentically you.




Kate: My favorite artist is either Logic or Griz :) Their work is so inspiring and they have always been such active supporters of minority groups and social justice and their music reflects that.

PP: What part of your home are your Pot Plants sprucing up?

Shyla: I have these amazing built-in shelves in my apartment and my two clones are happily living there. I also have an adult plant on my TV stand, right next to my money tree and weed - must be goodluck!

Kate: My Pot Plants are actually on my work desk! They're the perfect addition to this spot of our apartment and add a nice pop of greenery to my work station :)

 

PP: What have guests thought of your Pot Plant, and what kind of conversations has it sparked?

Shyla: They spark the best conversations, usually about growing, the people in our lives that grow, and how nice it would be to have your own weed. I had someone try and smell my adult plant and I had to admit they weren't real!

Kate: Everyone LOVES how realistic my PotPlants are! Many have thought they were real until I told them they weren't lol! Definitely a conversation piece for the 420 friendly <3
PP: What was your first perception of weed, and what do you think about it now?

Shyla: My mom always told me she'd rather me smoke weed than drink so I've always had a very positive perception of it. However, it wasn't until I started working in the industry that I learned it's for so much more than just fun. Now I know what an important plant it is and how much more we still have to discover about it. I think it's really exciting to be at such a pivotal moment where people all around the country are also realizing this and normalizing consumption and education. I'm happy I can play even a small role in creating an industry that's inclusive and educational.

Kate: Funny enough my first perception of weed was negative. In my adolescent years (especially growing up in Indiana), I was told that only "burnouts" and "losers" consumed it and definitely believed that up until I was about 18. My perception of weed now is obviously HUGELY different from back then. I now see canna as a beautiful and natural alternative to Big Pharma medications, an ally to the creative, and a partner in helping people find relaxation and relief from the stresses of modern day life.