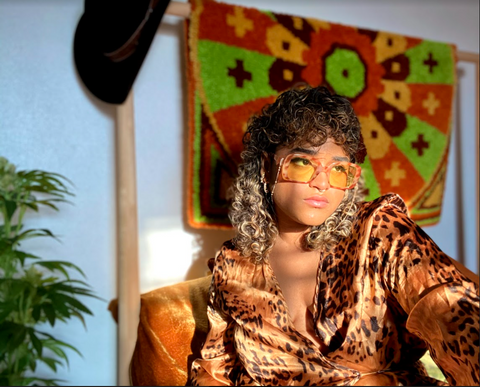 The Spark with Tori Rodriguez
This week, we spoke with Tori Rodriguez (IG
@vtorigrace
) to spark our inspiration and celebrate their individuality. Let's see what makes this vibrant soul's world go round.
Say high to Tori Rodriguez
Tori (they/them) is an actor and full-time student based in Philadelphia. A lover of all things vintage, this storyteller is strongly influenced by the late 60's and early 70's. Tori's kinship for the bold and daring was curated at a young age.

Starting with thrift shopping, Tori was able to experiment and explore new retro looks and discover great vintage finds. Their love of bright colors, psychedelic prints and orange (lots of orange) has allowed them to hone in on their personal style, better expressing themselves.
PP: What sparked your passion for your retro style and how did that translate into acting?





Tori: My first influences were David Bowie as the Goblin King, Labyrinth (1986), Freddie Mercury, Prince, and Michael Jackson (specifically Remember the Time, a masterpiece). Not to mention, I watched the Austin Powers movies wayy too young… I've been in theatre since I was 10, always tagging along when my mom did makeup at our church's plays. Eventually, I found myself onstage at a local playhouse, and I fell in love immediately. Fast forward to now, more than a decade later, I am in my senior year, finishing my BFA in Acting.

PP: How do you maintain your creativity and find inspiration during these wild times?





Tori: Before Covid, I often found myself saying yes to too many projects, resulting in burnout. I was constantly running around to rehearsals across the city, exhausting my creative, mental, and physical energy because I thought that my responsibility as an artist was to say yes to as many creative opportunities as possible.




But of course, 2020 had different plans; all live theatre was cancelled, and I found myself back in my small-town, childhood home for the rest of the semester, trying to learn and create on a platform that made it near impossible to be motivated to do so.




At first, (as was the case with nearly every other theater-artist I know) I was devastated. What was once an entirely collaborative experience had transformed into months of performing monologues to myself in various Zoom break-out rooms. I realized I had taken the magic of theater and the community that theater had provided me for granted, and I found my creativity at an all time low.




However, Zoom theater did force me to look internally and approach theater from an inside-out perspective. I feel lucky to have still been able to work on my craft, despite all the late night self-tapes even in the midst of a global pandemic. I ended up feeling more aware of my community than ever before because I had learned how to feel full and creative in its absence.




Yet, even when the work isn't fueling my creativity, I find myself listening to music, and centering myself physically. This includes breathwork, stretches, and either CBD or a joint! Maybe it's the art school training, but I've found a routine that really works for me. If I'm not feeling my most creative present self, I can realign and allow myself to open while also being grounded.
PP: What's your favorite artist, song or playlist right now that inspires your work/creativity at home?




Tori: I've been LOVING making playlists. I'm most proud of my morning playlist, endearingly named "Wake N Bake" (though I listen to the playlist despite what my morning activities look like ;) ).  It has over 9 hours of folk, funk, and good ol' fashioned classics that get my creative juices flowing for the day.
PP: What's your favorite spot at your home and why?




Tori: As cliché as it sounds, my bed is truly my favorite place in my apartment. I am a person who treasures alone time, specifically at the end of a long day, and my bed is the perfect place to unwind. I have this fabulous gold velvet duvet cover and it makes me feel absolutely decadent.
PP: Do you have any home projects going on now?




Tori: Yes! I'm all about decorating my space with fun, vibrant vintage pieces. However, my roommates and I definitely were slacking a bit this past year with finishing up our home décor. We're all working together to finally make this place feel fully like home with eclectic Facebook Marketplace finds, DIY projects, and little personal touches. You'll probably catch the end result sometimes soon on my Instagram @vtorigrace :)
PP: Where's your Pot Plant in your home and what kind of conversations has it sparked?




Tori: My Pot Plant is right next to my bed, on a little 60's nightstand, and it been the talk of the town! It is beautiful and eye-catching, even outshining my vast collection of indoor houseplants. My Pot Plant is a great way to start a conversation about the normalization of mj use, drug policy reform, and the disproportionate incarceration of POC on drug charges.
PP: What was your first perception of weed, and what do you think about it now?




Tori: I never had any negative opinions about weed. My mom was born and raised in San Francisco. There was never any negative stigma being thrown at me. That is until you hit middle school and they require you to do the D.A.R.E. program. And you sign a waiver saying you'll never smoke in your whole life… of course, being the little hippie that I was in high school that didn't last.




At first, it was something fun to do with friends. That is until I developed my anxiety and depression. I began exploring spirituality, where my relationship with weed became a part of my practice and selfcare.




Now, I'm about to graduate college and weed is an essential part of my daily life. Yes, it's still something fun to do, and I've created amazing relationships from just handing out a joint; but, it has become such a valuable part of my routine as a creative and as a human. I find myself being more energized, more focused, able to be open and honest in my creativity.