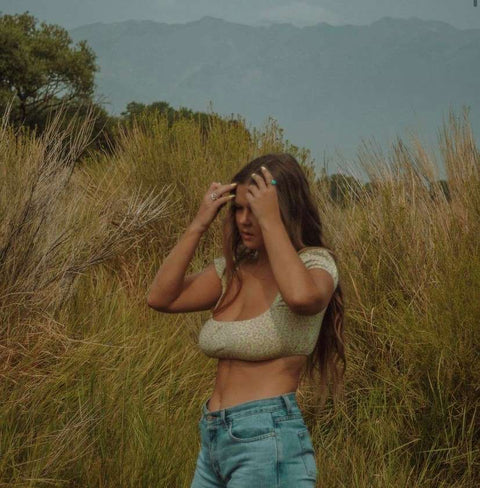 The Spark with Beyond the Buds
Over the past year, we've had the most time ever to reflect and reconnect with ourselves. Whether it's been revitalizing relationships with long-lost pals, redirecting energy into selfcare or rediscovering the outdoors, we've all found the silver lining in these wild times.
Enja from
@BeyondtheBuds has harnessed this time for her passion of all things outdoors and has embraced nature in each aspect of her life. Enja (pronounced like in-ya) was born in Norway and moved from country to country throughout her life. She recently has been reflecting on her upbringing and is grateful for her view of the world. This reflection has led to her appreciation for various cultures and for being present in any surrounding she finds herself in.
In 2012, Enja was living in California and found herself working in the canna industry. In the industry, she met her significant other Kevin. The pair decided to travel from one legal state to another (moving from California to Colorado to now Florida) and make something of their own -- Beyond The Buds. 
Say high to Enja aka Beyond The Buds
PP: Tell me a little bit about your brand and what drives your passion for it.

Enja: Over the past 3 years, Kevin and I have been building Beyond The Buds, a lifestyle brand dedicated to educating others about the plant in a fun and easy way to digest, while also inspiring others to go for their dreams! I'm truly so passionate about everything surrounding this plant, helping others and breaking the negative stigma around it.




I consider myself a self-taught photographer / creator / cannapreneur. I always knew that I loved photography and videography, but in the last year and a half I've really put all that I have into learning more and rediscovering how much I do love everything about capturing a moment(s)! It's crazy how much you can learn when you actually set the time aside to learn a new skill how much you can learn and grow. 




Nature has become my safe haven; it's the place I turn to in almost every situation. 9/10 if I'm having fun, it usually because it involves something outdoors like exploring new places, paddle boarding, or a simple walk with my dog Loki. 

PP: How do you stay creative and spark inspiration during these times?


Enja: I go back to nature -- it truly is my safe place! I go outside, and I can find inspiration in almost anything. It's a place I go to clear my mind and often come back feeling refreshed and full of new ideas. There are also so many amazing and talented humans that we have the access to follow online and look to for inspiration -- it's hard not to feel inspired! Sometimes I have too many ideas. It's hard to know where to begin, which can be the most stressful part about creativity and content creation. I do think it's important to note that taking breaks does wonders for our brains and creative juices, it's something that I'm still learning, but it's a must!




PP: What's your favorite spot at home and what type of music keeps you motivated throughout the day there?




Enja: The living room/kitchen/office area because it's where the most life happens. It's a place where I spend most of my time creating and growing. It's the most open space in the house and has great afternoon lighting (which I love)! It's also the place where we all come together, and to me that's super important! I honestly love to listen to some smooth coffeehouse, jazz or loft music while I work. I tend to switch up the playlists, so they don't get too repetitive. It helps me tune out the rest of the world and really lets me focus. I've noticed that too much noise can be a major distraction in the "office workplace" where on other hand, during photoshoots, I like to turn on some of my favorite feel-good songs real loud and get into the zone! Some of my favorites right now include: Slipping Away by LEISURE, Poseidon by GAVN! & almost anything from 44phantom or The Weeknd!
PP: Where are your Pot Plants in your home and what type of conversations have they started?

Enja: I have a few of them on my desk which is in the main part of the house. They're basically the first things you see when you walk in, and I love it! They make me happy to look at while I work. My Pot Plant is also a great prop for photoshoots and they are extremely low maintenance.




They are such a unique conversation starter and look very realistic. I always love talking about the plant, and this is a fun way to bring up the topic. I can't wait to have more people over to show them off too.



PP: What was your first perception of the plant, and what do you think about it now?

Enja: I remember being in the 7th grade the first time I smelled it. Back then, I thought it was just a skunk, only later on did I realize it was the smell of pot lol. For so long we were told weed was a gateway drug and that it would make us "crazy," so I was a bit skeptical of it. There was/is this negative connotation associated with people who use pot, and I felt that! It wasn't until I tried weed out of curiosity when I was 17 to get some sleep and help with my depression that I realized I had been so wrong about this plant. That led me down a path of researching and trying to help others find a safe way to use this plant. I now use weed on a consistent basis and advocate for it, to help fight the good fight and break the negative stigma around it. Everyone should have the access to use this plant!